Introducing: PepMag Conjugation Magnetic Agarose, 10% bead suspension.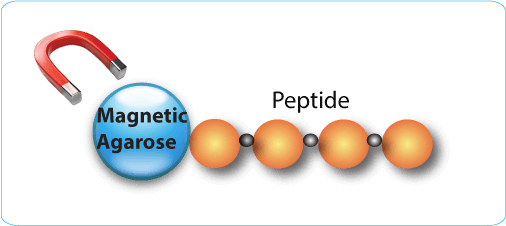 Order PepMag Magnetic Agarose beads for easy peptide conjugation, pull down experiment and binding assays. Simply mix the agarose beads with your peptide through reactions with the amine groups on the peptide. The high surface area of porous magnetic agarose beads results in high binding capacities. The binding of peptide and agarose beads are permanent. For binding with your target protein or antibody, simply mix the conjugated beads with your samples, Wash the beads and elute the protein or antibody using 50 mM glycine pH 2.5. Any buffer that breaks the binding between peptide/protein or peptide/antibody can be used for elution.
Buy 2, Get 1 Free.
Purchase any two antibody products and receive a listed antibody product of equal or lesser value for free. Order starting from Nov. 11, 2016 to Aug. 31, 2017!
Order two products online at regular price. Enter the promotion code STOCKUP and the name of the free antibody in the Special Instructions or Comments About Your Order area. Offers are valid from Nov. 11, 2016 to Aug. 31, 2017. This offer is not to be combined with any other promotions or quotes.
Simple Search: Type in any peptide name or sequence. The peptide products that match will display instantly. The best way is to input a name or partial amino acid sequence.
For example, if you type the word "HIV", or a partial sequence "Pro-Leu-Gly-Val-Ala-Pro" or "PLGVAP" into the search box and then click the "SEARCH" button, you will get back a list of all items with the word "HIV" in their descriptions or the "HIV -gp120- Antigenic Peptide".
---
Antibody Products:
Cat. No

Product Name

Applications

Price

Download
Data Sheet

Order

  LT0420
Anti DYKDDDDK(FLAG)
Monoclonal Antibody
Buy one FLAG antibody,
Get one FLAG peptide for free.
Use Code: FREEFLAG When Checkout.
Dot, ELISA, IS, IP, WB
  $190     $150  

  LT0426  
Anti His Monoclonal Antibody
Dot, ELISA, IP, IS, WB  
  $190     $50  

  LT0422
Anti HA Monoclonal Antibody
Dot, ELISA, IP, IS, WB
$110  

  LT0421
Anti cMyc Monoclonal Antibody
Dot, ELISA, IP, IS, WB
  $210     $150  

  LT0423
Anti GST Monoclonal Antibody
Dot, ELISA, IP, IS, WB
  $220     $120  

  LT9992
Anti V5 Monoclonal Antibody
Dot, ELISA, IP, IS, WB
$150

  LT9994
Anti GFP Monoclonal Antibody
Dot, ELISA, IP, IS, WB
$100  

  LT9993
Anti RFP Monoclonal Antibody
Dot, ELISA, IP, IS, WB
$110  

  LT9999
Anti β-Actin Monoclonal Antibody
Dot, ELISA, IS, WB
  $210     $150   

  LT9995
Anti GAPDH Monoclonal Antibody
Dot, ELISA, IS, WB
  $210     $110   

  LT9991
Anti β Tubulin Monoclonal Antibody
Dot, ELISA, IS, WB
  $210     $110   

  LT9998
Anti ERK1 (E19) Monoclonal Antibody
IP, WB
$260  

  LT9997
Anti ERK1 (E32) Monoclonal Antibody
IP, WB
$260  

  LT9996
Anti ERK1/2 Monoclonal Antibody
WB
$260  
---