Custom Antibody Services 🐇 🐹 🐁 🐀 🐐
Ask Me About Antibody Service and Peptide Design
Please click here to get a quote for Antibody Service now!
LifeTein provides a complete portfolio of antibody services including free peptide antigen design, peptide synthesis, and polyclonal and monoclonal antibody production, development, and purification services. As a leading provider of superior custom antibody development services, LifeTein promotes the understanding of life one protein at a time and offers a wide range of industry-leading platforms and services. LifeTein can customize a discovery and development path to fit your exact needs.
LifeTein's AdjuBoosterTM adjuvant was developed at our antibody campus core facility. It was proven to increase the immune response in a shorter time than competing products. Our facility uses this innovative new system to generate high-affinity custom antibodies. LifeTein scientists will work with you to generate custom antibodies for your research and development programs.
Featured Service: 🐇 Peptide Affinity Column Purified Polyclonal Antibody Service
We provide the following services:
1. Free Peptide Antigen Design: Stronger antigenicity for the chosen domain.
2. Custom Polyclonal Antibody Services: Peptide affinity column purified antibodies for less background (Choice of Rabbits🐇, Guinea Pigs🐹, Goats🐐, Rats🐀, or Mice🐁).
3. Custom Mice Monoclonal Antibody Services (Mice 🐁): Guaranteed two positive clones (Mice🐁 Only).

Get a quote or order now. We will process your order immediately. Please CLICK HERE for the quotation form.
LifeTein Antibody Guarantees
Antibodies are peptide affinity column purified for the higher concentration and the better specificity.
ELISA results of 1:32,000 for any peptide polyclonal antibody project
No cross-reactivity for phosphopeptide-specific polyclonal projects, and a guaranteed 1:32,000 ELISA titer. Double peptide affinity column purification are used to remove all possible unrelated IgGs.
ELISA titers of 1:80,000 for all peptide monoclonal antibody projects
Two positive clones for all monoclonal antibody projects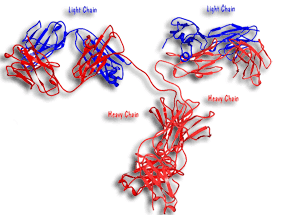 Reference:
Richard R.Rustandi, et al. Characterization of gH/gL/pUL128-131 pentameric complex, gH/gL/gO trimeric complex, gB and gM/gN glycoproteins in a human cytomegalovirus using automated capillary western blots; Vaccine; Available online 3 July 2021, https://doi.org/10.1016/j.vaccine.2021.06.033
LifeTein generated Anti-gM and anti-gN antibodies for Vaccine Analytical Research Development and Vaccine Process Development Merck & Co., Inc., Kenilworth, NJ, USA. The rabbit polyclonal anti-gM and anti-gN antibodies were elicited by vaccinating animals with synthesized peptide sequences of gM (1-13aa and 345-372aa) and gN (61-101aa). Animal immunization and sera collection were performed at Lifetein, LLC (Hillsborough, NJ, USA). The sera were affinity-purified by its corresponding peptides.
Hui-Lung Sun. et al. Stabilization of ERK-Phosphorylated METTL3 by USP5 Increases m6 A Methylation; Mol Cell; 2020 Nov 19;80(4):633-647.e7. doi: 10.1016/j.molcel.2020.10.026.
LifeTein helped synthesized a series of phosphorylated peptides. Then the peptides were used for phospho-specific p-METTL3 (S43) antibody productions. Sun et al. demonstrate that activation of the ERK pathway promotes m6A methylation by phosphorylation of METTL3 and WTAP.
Natural variant of collagen-like protein A in serotype M3 group A Streptococcus increases adherence and decreases invasive potential. Infect Immun. 2015 Jan 5. pii: IAI.02860-14.
LifeTein made the affinity-purified rabbit polyclonal anti-SclA antibody. The purified streptococcal collagen-like protein A (SclA) antibodies demonstrated that a mutation in Group A Streptococcus carrier strains increase adherence and decrease virulence.
Jia Shen. et al. EGFR modulates microRNA maturation in response to hypoxia through phosphorylation of AGO2. Nature 497, 383–387 (16 May 2013), doi:10.1038/nature12080
LifeTein helped designed and synthesized a series of phosphorylated peptides. Then the peptides were used for phospho-specific antibody productions. The phospo-specific antibodies by LifeTein were confirmed to react with the epidermal growth factor receptor (EGFR). The Hung's lab showed that AGO2-Y393 phosphorylation mediates EGFR-enhanced cell survival and invasiveness under hypoxia. These findings suggest that modulation of miRNA biogenesis is important for stress response in tumour cells.
... The following peptides were chemically synthesized for antibody production in mice (Lifetein Conc.), Elisa verification (LifeteinConc.) and peptide competition assay in immunohistochemistry (IHC)... Supplementary information
George R. Tiller, Potential Roles of Peroxidases in Caenorhabditis Elegans Innate Immunity. 2014
Custom peptide antibodies were provided by LifeTein to study SKPO-1. The SKPO-1 peroxidase domain peptide was synthesized by LifeTein. The polyclonal antibodies were raised in rabbits and then affinity purified to accomplish high specifications and concentrations. The antibodies were successfully used to localize the SKPO-1 protein in hypodermis. It was found that the peroxidase SKPO-1 contributes to the host immune response during infection.
... With respect to having a pAb raised for IHC, I designed a synthetic SKPO-1 peroxidase domain peptide to be chemically synthesized and have a pAb raised in rabbits against said peptide by Lifetein®. This endeavor was successful and is covered in Chapter 3...